Dr Energy makes UTAR a TISE 2013 winner
Date: 7 October 2013
The innovative product called 'Dr Energy' of a team comprising a UTAR postgraduate and three undergraduate students, made the team a winner in the Young Intellectual category of the Outstanding Technopreneur Competition 2013 as announced in the Fifth Technopreneurship and Innovation Symposium and Exhibition (TISE) held at Tunku Abdul Rahman University College Kuala Lumpur campus from 6 to 7 October 2013.
The competition, organised by Malaysian Scientific Association and Wencom Career Consultancy, aimed to explore, identify and develop young Malaysian technopreneurs to set impetus to new economic development using science and technology; to retain and attract talents for the industrial and technological development of Malaysia; and to channel Malaysian young intellectuals and professionals into the main stream of national and international development.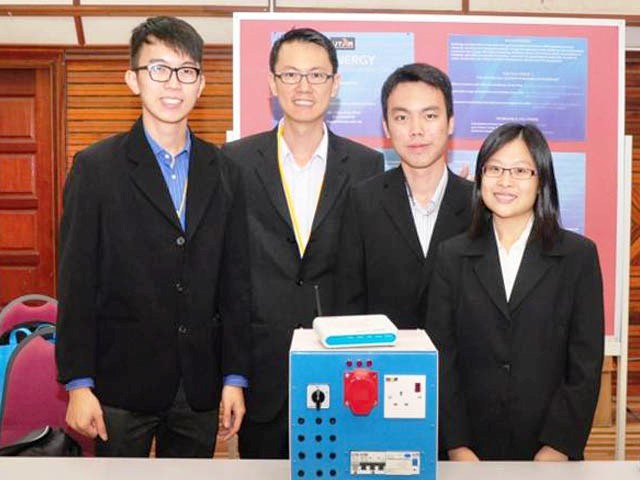 The winning team comprised postgraduate student and lecturer Chua Kein Huat and undergraduate students, Nicoline Saw Ying Jie, Chok Eu-Tjin and Alvey Hau Lee Chuen, from UTAR Faculty of Engineering and Science. They were supervised by Assoc Prof Dr Lim Yun Seng and Asst Prof Dr Stella Morris from the faculty.
Their winning entry, 'Dr Energy' is a plug-and-play, multifunctional electrical power diagnostic equipment that monitors, analyses, controls and optimises energy usage of a building. Dr Energy can be used to save energy consumption of both single- and three-phase electrical systems of buildings.
"We strongly believe that Dr Energy has market potential throughout the world," said team leader Chua, adding that they were in the progress of applying to patent the product. He thanked his team-mates for their cooperation and hard work.
"Getting an award in this prestigious competition has certainly motivated us to continue to work harder in this project," said Chok, adding that they would continue to improve the product. Hau thanked the organisers for providing the opportunity to showcase their product.
The winners in the competition would receive a three-month career guidance and job matchmaking service with assistance for internship in European companies in Malaysia, ASEAN and the European Union.