Double awards at ITEX 2014
Date: 10 May 2014
It was double recognition for UTAR when its two research teams clinched a silver award each in the 25th International Invention, Innovation & Technology Exhibition (ITEX) that was held at the Kuala Lumpur Convention Centre from 8 to 10 May 2014.
The first winning team comprising Ir Dr Lim Yun Seng, Senior Lecturer Chuah Kein Huat and students Wong Jianhui, Yong Wui Kian and Lim Khim Yan won a silver award in environmental and renewable energy category with their invention 'Active Management System for Electrical Distribution Network with Renewable Energy'. Their invention is a proposed solution to ensure effective operation of the distribution networks with the PV system. The 3-phased fuzzy control algorithm for the distributed energy storage system can control individual phase voltage and mitigate the voltage quality effectively without cutting any of the excess renewable energy.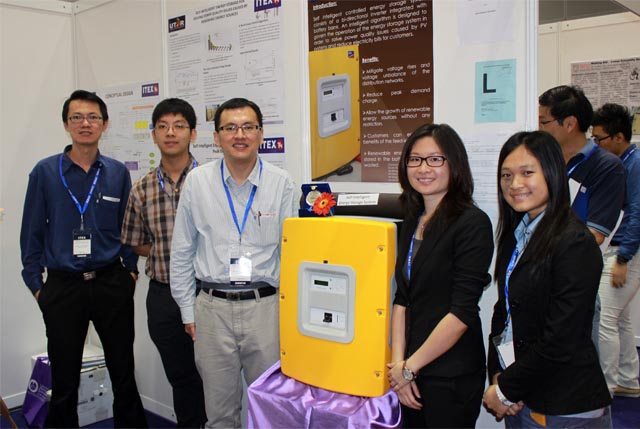 The second team also won a silver award in the same environmental and renewable energy category with their invention 'Dense-array Concentrator Photovoltaic System Utilising Non-imaging Dish Concentrator and Array of Crossed Compound Parabolic Concentrators'. The members in the second winning team were Prof Dr Chong Kok Keong, Lecturer Wong Chee Woon and students Yew Tiong Keat, Tan Ming Hui and Tan Woei Chong. Their winning invention is related to the field of solar power generation system from state of the art technology - a dense–array concentrator photovoltaic system utilizing non imaging dish concentrator and cross compound parabolic concentrator to improve overall energy conversion efficiency to improve by more than 30%.
The two winning inventions fulfilled the ITEX judging criteria of creativity (originality, inventiveness, novelty & uniqueness), usefulness (relevance in solving the problem, contribution to health, safety & environment, economical & practical) and design (aesthetically pleasing, durable and uses environmental friendly materials).
ITEX is organised by MINDS (Malaysian Invention and Design Society) and is widely recognised as an international platform for local and international innovators and researchers to present their innovations and inventions to the business community. Winning inventions gain maximum recognition and attraction for business opportunities.