The truths and myths of entrepreneur by Jacky Cheng
Date: 3 July 2017
"Live life to the max," enthused Jacky Cheng Hock Eu at "The truths and myths of entrepreneur" talk that was jointly organised by the Entrepreneurship Society, Faculty of Business and Finance (FBF), Faculty of Information and Communication Technology (FICT) and Department of Consultancy and Commercialisation (DCC) at Kampar Campus on 3 July 2017.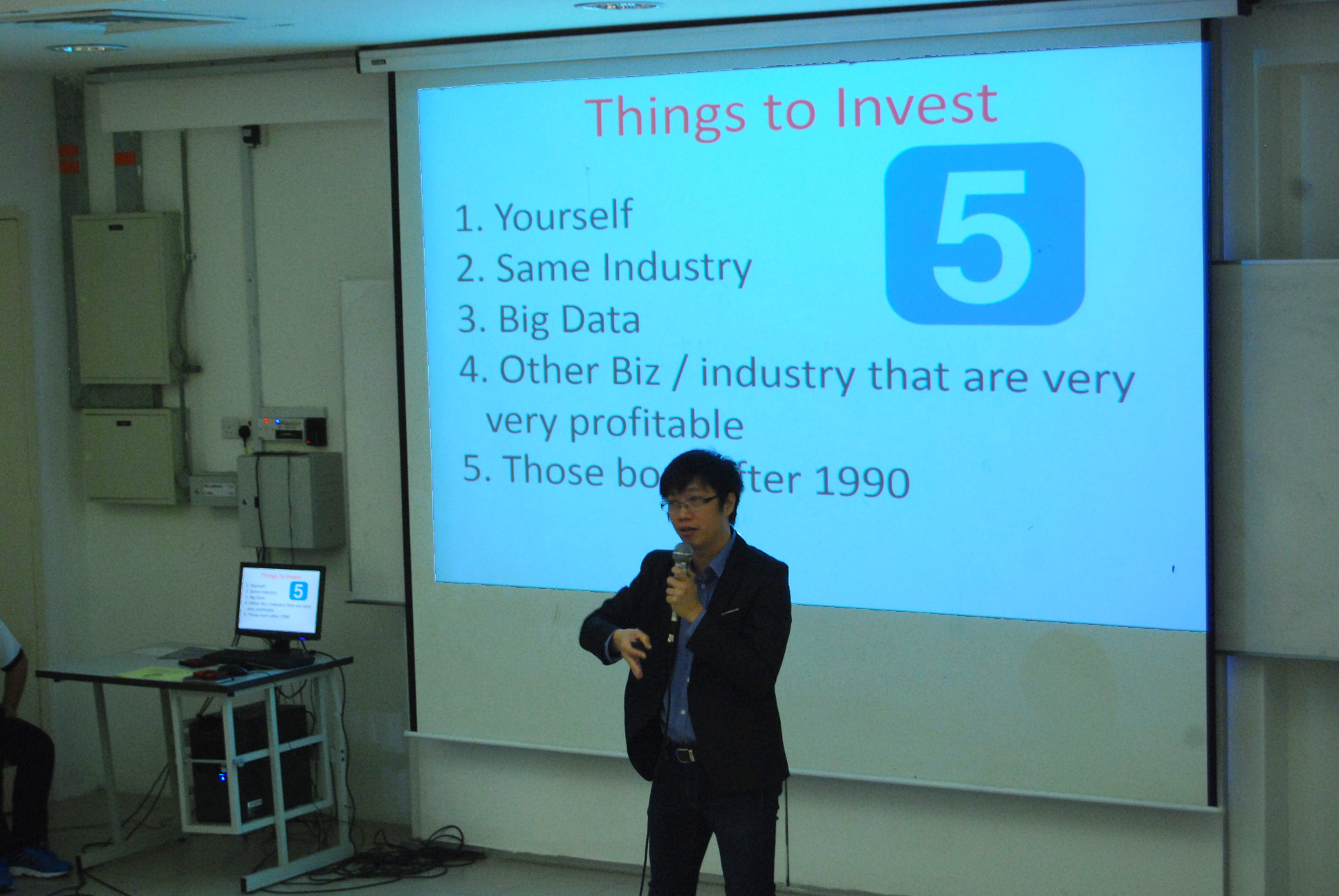 Joining 143 students at the talk were FBF Dean Dr Au Yong Hui Nee, DCC Head Ching Yen Choon, FICT lecturer Aamir Amin, FBF lecturer Adi Wira bin Mohd Zin, and Entrepreneurship Society Chairperson Chong Kuang You.
Similar to the previous activities that were part of the University's initiative to offer students a holistic learning experience, the talk enabled them to keep abreast of the latest happenings in the business field and to strengthen their sense of professionalism and social responsibility. The participants were also inspired by Cheng's success stories and given a glimpse of how to face the challenging business world.
The talk also aimed to educate students on the how-tos of becoming a successful entrepreneur, where the CEO and Founder of Genius Mind International Sdn Bhd reminded the participants that success does not come from shortcuts, but from continuous hard work. The same applies to excelling in studies, as Cheng elucidated further, with his experiences as examples of hard work that have gained him the success today.
"Do not be afraid of failures and learn from them, even if it takes multiple trials. Be willing to take risks," advised Cheng. It is the mindset that Cheng mentioned of as being an important tool for overcoming obstacles, which is by keeping a creative and positive mindset when solving problems.
Likeminded, Dr Au Yong also spoke of the talk as a thrust to put students into action. "The talk teaches students that one must take action in order to become successful entrepreneurs. To make their dreams come true, students must learn to take action, learn from the winners, be a team player and be courageous in difficult times," said Dr Au Yong.
To get the participants thinking carefully about their future, Cheng also asked the participants of what they would like to achieve in life, and hence advised them to prepare a 10-year plan so participants have a goal to attain to.
Apart from using failures as good life lessons, he mentioned that having coaches and mentors to turn to also provided him assurance when facing the challenging times, and also helped to upgrade himself further. Till today, Cheng still attends workshops and classes conducted by world-class mentors and coaches to continuously improve himself.
To the students, he advised them to participate in clubs and societies available in the university because the supportive and challenging extra-curriculum environment will enable them to develop the skills needed for their future.
Besides participating in university activities, participants were also encouraged to spend 15 minutes daily to improve themselves, in ways which included reading a self-development book, attending soft skill workshops or courses, seek a mentor and to have passion in what they do.
"Listening to the talk has once again sparked my passion to run my own self-designed T-shirt business. I had this idea when I was younger but now I am more determined to realise my dream and to find a good team that I can work with," said Chong.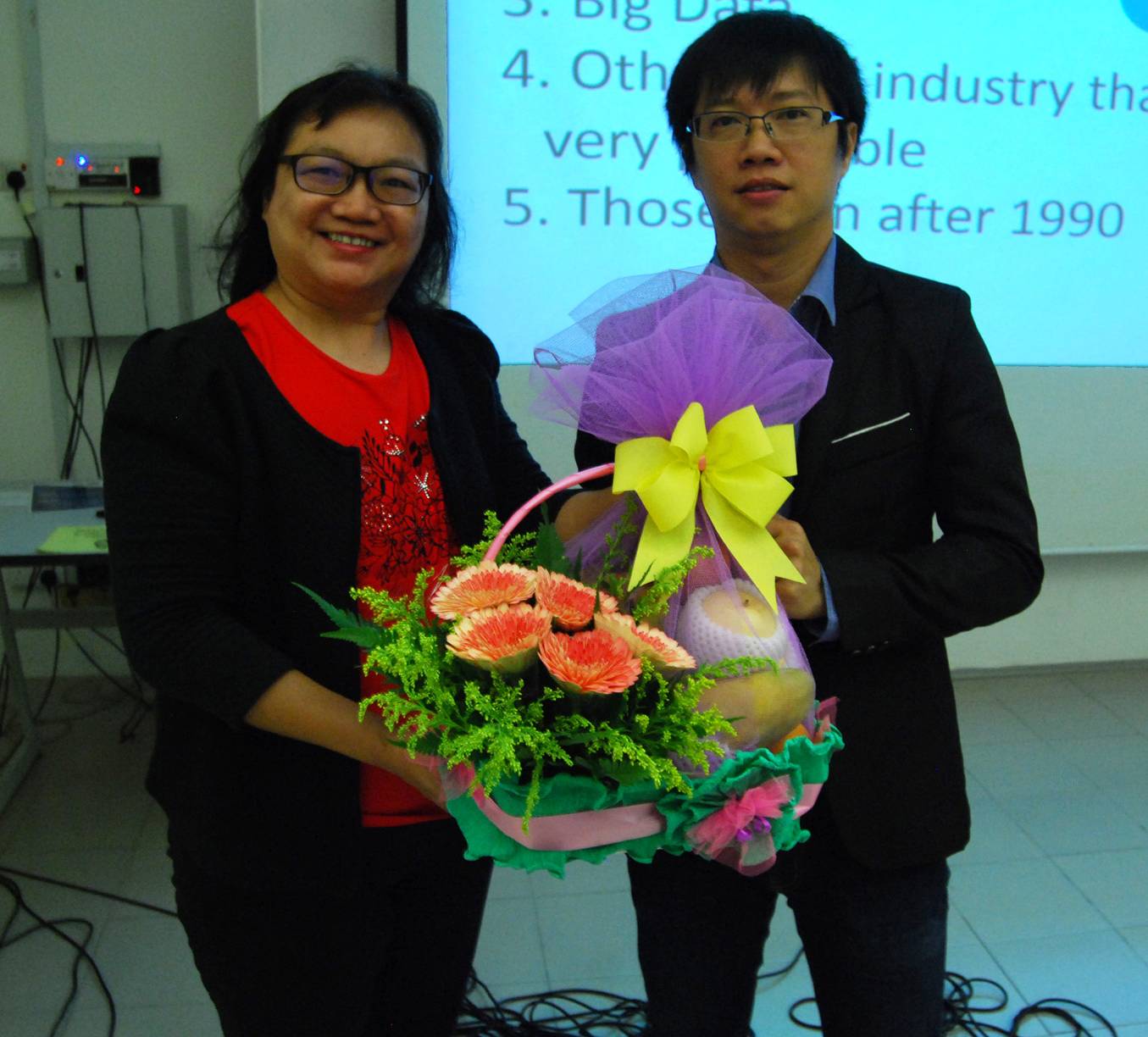 "True enough, participating in clubs and societies helped to nurture essential soft skills in me to excel in my studies and as an individual," added Chong, who is also the Vice Chairperson for the Arts and Crafts Society.
The talk then ended with a souvenir presentation to Cheng by Dr Au Yong.